I've been living on off-grid solar and wind power well out of town here at Loomberah (35km SE of Tamworth NSW) for 18 years. With my partner Hether we have a large vegie garden, a few chooks, and lots of cherry and other fruit trees.
I've gradually built up my collection of solar panels, and currently have 2.77kW worth of them on 2 trackers. Here they are, along with a 200W WTG in the 2009 Spring Equinox dust storm: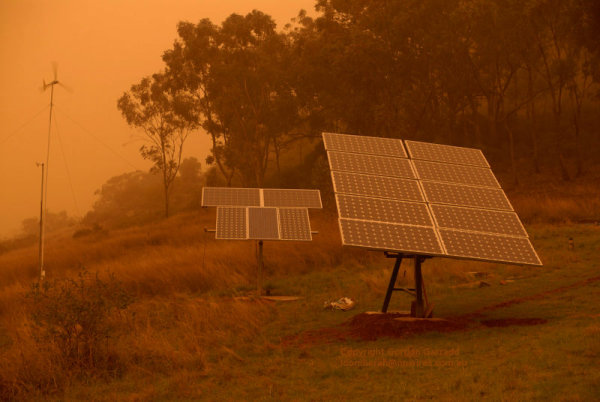 The trackers are great for getting the most out of the panels all year round, and even in cloudy weather we dont need to run a backup generator... just as well, since we dont have one
On sunny days we have enough power to weld, there was lots of welding in that big tracker, or run the electric concrete mixer for quite large pours. This time of year we are busy netting and bagging the cherry and apricot trees to protect the fruit from birds and fruit flies, we do everything organically, and most of the block is devoted to regenerating bush, so we have lots of wildlife.
Gordon