The classic 150 has a max output of
5022w
at 70v input and a max of
4672w
at 100v . So around 350w or 8% reduction in max output. Though I am unsure if this is a detect relation to efficiency or not.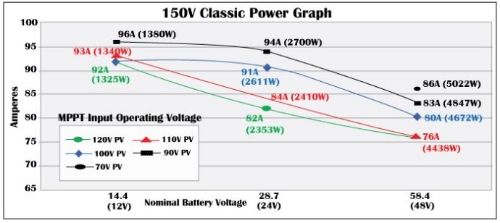 The system I have now seems to spend a lot of its time around the 70v mark .
Another consideration I was having is the shape or layout of the panels on the roof to keep wiring simple and runs shorter to combiner boxes.
3 runs of 7 panels 21 in total is doable in the one location.
Kurt