Hello everyone, Im new here, needing advice on my power system (another thread)
I saw this section on alternative building, so thought I might share my plans im hoping to put in action very soon (lease ends in 4 weeks!)
I am planning to move off the grid, and wanted to share my plans with others, to get advice, and maybe give good ideas to others.
If you have any suggestions or ideas please let me know!
Im sure will have lots of questions and stufff along the way.
Im especially looking for:
Advice on the legalitys of doing this.
ie, renting land off someone and putting in this transportable home unapproved.
Ideas on how to find people with lots of land who want to make some extra money (maybe your one of them
).
Ways I could improve my design.
Things you think may not work/be effective etc.
Advice on the power system, I have created a seperate, specific thread on it at this link -
Anyway, here you go, its long:
Problem
Rental properties that have a small section of yard go for $270 at the cheapest. Most do not want pets, and are not big enough to keep cats indoors. All these houses are within meters of neighbours, which means no privacy and no regular loud music or big partys (im 24
). For an ideal property, I will need to pay around $330-$360 per week.
I do not wish to live with others in a share house.
The main issue though, is that over only 4 years of renting, I will spend $60,000 - $70,000 on rent, for a much less than ideal property, lost money..
What can I do to avoid this problem
Find someone who has a really large (10 hectare +) property in the gold coast hinterland, and wants to make an extra $100 per week. Rent a small 216 square meter block (12m x 18m) on a remote part of the property that has access via a dirt road. At the very minimum, the site must be flat, and a container truck must be able to access the area, water near by would be great! (I enjoy gardening, and grow plants on a small scale to sell on ebay and by home delivery, so need water)
Setup a transportable, "off the grid" home cheaply, that is comfortable, beautiful looking, spacious, open plan in beautiful surroundings, and not without any creature comforts! It will be improved and made into my dream home when I buy land of my own, or even set it up as a cheap $200p/w holiday rental on a part of my property that sleeps upto 10 during summer!
This home can be dismantled and moved over a week comfortably, leaving absolutly nothing behind.
The home
Purchase a 2nd hand, 40ft shipping container (heavily insulated refrigerator/freezer container, with refrigerating gear removed). Have it modified with 2 lots of sliding doors along one of the sides, a partition (and door) for a storage room, and a hole for the window A/C. One of the doors needs to have a little kitty door! Fit a 2nd hand fireplace.
Bring to the site and put the container in place on 4-5 treated hardwood sleepers. Cover the floor of the container with cheap, but nice looking flooring, probably laminate timber flooring. Paint the interior walls and roof (insulated containers for refrigeration come with smooth walls to begin with, not corrigated). Put up nice heavy curtains across both glass doors and across the container, seperating the bedroom from the loungeroom.
Next part is the enclosed varanda, extending 10.6 meters from the side of the container fitted with the sliding doors. The roof will be a large heavy duty canvas tarp. Threaded lugs will be welded onto the front face of the container (when the modifications are being made), so that the eyelets of the tarp can slip over them and be bolted down neat and tidy.
The tarp will be supported using five supports made from 50mm x50mm steel tubing. They will be shaped in an L shape. Each support is a 10.6 long secton, bolted to the front of the container, with a 7.5ft high vertical support (cant think of a better word) on the other end, forming the L.
The beams will be bolted to the ground using 18" earth screws rated at 1100kg. Its $59 per 18" screw, and they can be removed and reused again and again. Each screw is rated to hold with 1100kg force. I will have a 'bolt on' beam that holds the five L beams apart on the far end away from the container. I will use 2 tent poles per beam, to stop them sagging in the centre. The spike of each pole will be inserted into a hole in the beam. I will cut some donut shapes from scrap ply, paint them black, and screw them into the floor, to stop the base of the poles moving around. The 2 far corners of the support frame will be cabled to really sturdy trees, or earth screws to prevent all side to side movement of the far end of the shelter..
The tarp will slope down from 8.5ft high, to 7.5ft high, away from the container. Along the low edge will be a 12m gutter, draining into a watertank, the largest size tank that can be transported in a regular trailer.
This outdoor area will be enclosed with shade mesh stretched smoothly across for walls. A simple door will be made for it using a frame made up from scrap materials, and a free door from the door guy. The shade mesh will be burried into the ground 10cm or so, and secured to the tarp very well, so that my open plan area is 100% sealed from mosquitos, flys, ticks, bugs etc.
I will use a cheap spring, to keep the door shut.
The ground of the open plan area will be completly covered in pallets that have had boards nailed into the gaps (to create a decently flat surface on the top). If there is an option where I can cover the pallets with some kind of board for less than $3.50 each, I will do that instead, to save a massive, massive job. This raised floor will be covered in four green 6x6m tarps stretched tight, to protect feet from splinters, make it look really neat, and make it easy to sweep. Four tarps so that if one is badly torn or something, I can just replace that one, and not a massive 12x12m tarp.
Instead of covering the pallets with tarp, I could rent a floor sander for a weekend, and sand the tops of the pallets, and lacquer the tops of the boards. It would look alot nicer and give a more rustic look to the place. The costs would be very simular.
Amenetys
Clean water supply
I will keep 10-15 of Dad's black 20lt tanks (my dad has about seventy 20lt plastic containers sitting unused) full of clean drinking/shower water, and take the empty ones with me to refill everytime I go out. Rain will be collected off the tarp using 12m of gutter, and fed into a water tank for the garden. The tank should be the largest size that can be transported in a regular trailer 10,000lt or so.
Power supply
Power will be plentiful. It will be supplied by a generator from ebay. The power will be used to charge a large battery bank, and converted to 240v using an inverter/charger unit again from ebay.
The generator will be located 50m into the bush, using a heavy duty power cable. It will be housed in a simple baffle box made of scrap wood with 3 sides and a top, with the open side facing away into the bush.
I will get an "auto start unit" which are made to automatically start and stop 'electric start' generators at the times you set. This would be a great idea, allowing me to run the generator for an hour or two every night effortlessly, keeping a more stable charge level than 2 or 3 big charges per week, conserving the batterys for a longer life.
1lt of fuel produces 3.2 kwh of electricity, approximatly. By the time its been used to charge the batteries, then converted to 240v AC current, its probably closer to 2.5 kwh? The most I could use (without using the aircon) is 3 kwh per day with a full sized fridge. This works out to approximatly $12.30 per week for electricity at $1.50lt, or $160 per quarter year!
I would need to run the generator for 6-7 hrs or so per week, for this amount of electricity.
My window air con uses 800w in both heating and cooling, so $1.60 of fuel would run it for approximatly 4-6hrs. I plan to use it rairly as the very last resort though in extreme temps.
Theres no need to "wire up" the container with electricity or lighting. Power will go from the 240v inverter to a good powerboard, and be distributed using regular power cables.
Cooking
Cooking will be done outside using a regular swap and go gas cylinder, that powers a BBQ with an oven hood, and a camping stove.
Toilet
I will get a waterless composting toilet. Like this Nature Loo - Classic 1000. It comes with 2 tanks, when one is full, you swap it out for the next one, leaving the compost in the first tank to continue breaking down, until it is time to swap back in a year or two. It comes with a 5 watt fan and vent tube, so no smells can come out of the toilet into the bathroom.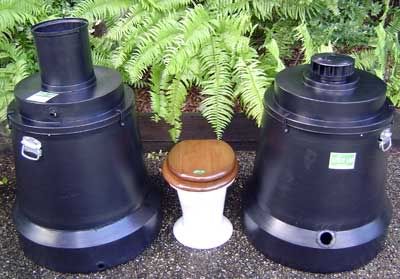 Hot water & Shower
Hot water will come from a big kettle for drinking and washing up.
I will heat water for showers by:
1.Fill up the showers hot water tank with however much water I want to heat.
2.Top up the cold water tank.
3.Switch the tap to direct the hot water pump to recirculate water through the heating core (a 13mm copper pipe bent into a tight coil, that I can put into the outdoor fire place, or if that isnt effective enough a proper copper heat exchanging core)
4.Turn on the pump, and recirculate the water through the fire!
5.Once the water in the tank is hot, remove the coil from the fire, allow the water to circulate for another minute or so to cool the coil down to the water's temp, and then turn off the pump.
6.Redirect the hot water pump to the shower (and sinks) for long hot electricity free showers!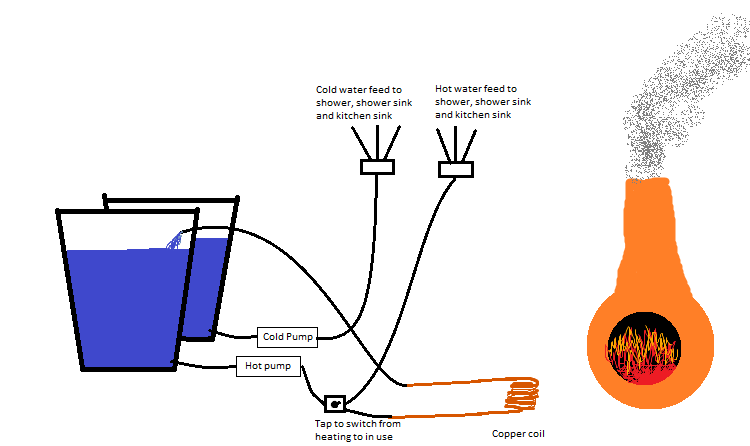 I imagine I will try to insulate the hot water tank somehow. Maybe I can even find a junk hot water system, that is still good to use as an insulated water storage tank? If it was a large tank and I wrapped it in further insulation wrapped in thin sheet metal, It would stay hot for around 3 days, going off a simular setup.
I could try heating water in dads black 20lt tanks in the sun. No reason why I couldnt get hot water, like what can come from the tap on hot days! I would simply fill the hot water tank with this sun heated water, for hot showers without using fire (or even just to get the water pre-heated, so the fire heats it up really quick). On regular winter days I was able to consistantly heat a black 20lt container of water in the sun to around 33.5 degrees, in summer, I predict I will be able to heat the water to a nice 40 degrees or so, allowing me to shower without using fire as the heating source at all.
Rubbish
I will have to have bins that I take to the tip etc. Ill keep a compost bin on my section of garden, if the land owners dont mind.
Kitchen sink
I will have a large 2nd hand kitchen sink outdoors connected to the hot and cold water, for washing up and handwashing clothes. I will also use a laundromat for big loads when required. It will be fit into a long home made bench.
Lighting
Again, theres no need to "wire up" the container with electricity/lighting. I will just use plug in lamps with low wattage fluro bulbs/led lighting. Ill also use candles saftly in secured glass jars, and have an indoor box type fireplace and one or two outdoor "chiminea" style fire places from bunnings.
Waste water
Waste water will come from the kitchen sink (2 outlets, one for each side), the shower, and the shower sink. Waste water will be directed 2 small tanks, dirty water and water for garden use.
Each sink/shower drain, will be narrowed down to connect to 19mm poly pipe. Each drain will be split with a T section, and 2 cheap 19mm poly taps will direct the flow, so I can easily switch the waste water to go to either the "dirty water" tank/drain, or the "gardening water" tank.
The taps will be under the kitchen and bathroom sink, and outside behind the shower. Even though I will have the ability to select where the water goes depending on its cleanliness, I will have it setup 99% of the time so that the shower water is saved, the bathroom sink is to waste, the main washing up (and clothes hand washing) sink is to waste, and the other side of the kitchen sink for rinsing etc, is set to save.
The clean water will be used to water my garden.
The 20lt waste water tank (washing up water, clothes washing water, water for brushing teeth/washing hands etc) will have a long hose coming from its bung, this hose will be moved around regularly, with the water draining freely into the ground. I will need to be 100% concious of whats going down my drains.
I need another small tank, 20lt will do, this will be for waste water with chemicals etc., this will split off the T section for the main washing up sink. This will be for anytime I am using harsh cleaners or simular, that are not suitable to be drained into the ground. This will be used rarely, as I have no use for harsh cleaning products etc.
Comfort/weather/environment
Damp conditions
Any dampness will be combated inside by opening up the house to lots of air flow often. During really humid times I will use a dehumidifier as a last defence if needed, but I very much doubt it would come to that! Outdoors during winter, the outdoor fire places will keep the outdoor furnature dry while it is being used during the night. Winter mornings might get a bit damp till the sun has been up for a few hours. I really do not expect problems from excess humidity/dew/dampness.
Very hot conditions
House is open plan living to the fullest, air con, outdoor cooking and shower, big doors, heavily insulated, white exterior to reflect heat energy, shady bushy surroundings. Dosen't get much better!
Very cold conditions
Container heavily insulated, heavy curtains across glass doors, reverse cycle window air con, and a 2nd hand metal box fireplace.
Outdoor area will have plastic screening I can put up over the shade mesh, to block wind flow through some of the outdoor section. The area will be heated with one or maybe two "chininea" fire places and also my table gas heater.
I could paint the sun exposed areas of the container black, to absorb more heat in the cold. During summer I would need to cover this in white tarp/sail/canvas, to reflect the extra unwanted heat though.
I could use water for free heating too. I could very cheeply setup say 20 of Dad's black 20lt containers outside in the sun on the roof, fill them with 400tl of water. Put 20 of the same containers (use up blue ones), under the bed. As soon as the sun goes down a tap timer opens and the 400lt of heated water drains down to the containers under the bed, heating the home through the night. First thing in the morning the water is pumped into the black containers, where it gets hot in the sun again!
If the water was to heat up enough during a typical winter day, to loose 15 degrees of heat energy during the night (achieveiable from trying!), it would give off 7.2kwh of pure heat energy! Thats 720w of heat given off over a 10hr period!
Another less ideal option is in winter, I move the hot water tank so it is inside in the storage area of the container. This will give of a good amount of warmth. Even after I have used the hot water to shower, I can refill the tank and heat the water up really hot again with the fire, so the water acts as a massive heat source indoors all night. That same water will be used again for my next shower so won't be wasted, and theres no electricity wasted obviously. I wont do this unless its really needed.
Both of these water heating options will require an inlet and outlet water pipe through the container walls for me to connect to. Not a big issue. Also, I could route either of the the hot water supplys through a 2nd hand home radiator to speed up the heat transfer.
No matter what I choose to do, I will be very cosy and get most of my heat from electricity free sources – the sun, and fire.
Heavy rain/hail
Tarp and shelter structure secured very well, In such a way that water cannot collect on the tarp. Tarp made from heavy duty canvas. Small trench dug around perimeter, to stop water going under the outdoor floor and container.
Strong wind/falling branches/projectiles
Protection in shipping container from branches/projectiles, shelter secured down with earth screws, container too?
Bush fire
Have a pre planned clearing close by to get to if fire comes up, suddenly and I cant get out. The first second I detect smoke or anything in the area, take a shovel, 2-3 20lt water tanks and a heavy blanket on a trolly to the clearing. Dig a pit in the center of the clearing, as deep as I can get it before the fire arrives, get in the ditch, saturate the blanket with water, cover up and pray! Maybe ask if I can start a small ditch if it wont be noticed, so I have a headstart if it were to ever arise.
Whats needed & Costings
Home structure
A 40ft shipping container of the 'freezer' type, with the refigerating equipment removed. These containers come insulated to an extremly high R value. Purchase it modified, with two sliding glass doors, a hole for the window A/C and a wall partition with door (only if the price is right, I can use a curtain otherwise). Cost $9300? awaiting quote. Estimate based on a regular 40ft container being around $4500.
Purchase a second hand wood fireplace with chimney etc. $380 ebay.
Take the fireplace to the container modifiers in brisbane where my container is being done, and get them to install it. $150
Transport of container to location - included with purchase.
Curtains and rails to cover the glass doors (2x3m), and one to seperate the bedroom from lounge at 2.4m. $250
29 square meters of laminate flooring for the container. $290
Paint for the container walls and roof – 65 square meters. I wont paint inside the storage area yet. $200
4-5 Treated sleepers or simular for the container to sit on. Try and find somthing free to use. $70
90 pallets for outdoor floor, get free ones. That is alot of pallets, but I can fill in the outdoor area as I go. I also need to get boards to nail in place. All I will pay for is nails, and fuel to transport. $100
Four 6x6m good poly tarps to cover the pallets, must be green or black, not blue! $300 (4x$74)
Really well made heavy duty canvas tarp to cover 10.6m x 12m. A 6x12m canvas tarp goes for $455, So I am looking at around $910.
36m meters of fly mesh or shade mesh, whichever is cheaper, at 2.4m width. $199 for 50x3m, Plenty to put up a shade over my garden too.
5 steel L shaped supports for the tarp and shade mesh, brace, paint, and stuff to fit it all in place. $1100
10 Tent poles to prevent saging of long 12m beams $130
5 Earth screws to bolt beams to ground $300
Cables and hardware to secure far corners of shelter $100
12m of guttering, with mesh. $120
Poly pipe to a tank. $40
10,000-15,000lt water tank $2200
Materials to make a wooden door frame, and door. Use a door from the door guy & unused wood under the kitchen for the frame. I will attach it to the container, or an upright support for the tarp, so the screws and stuff to do that. $10
TOTAL COST $15,690
Amenitys
Hot water
One tank for the water. Try and find a broken down hot water system $50
12v pressure pump, Capable of handling water upto 90 degrees. $80
Copper heat exchanger – 13mm copper pipe. $30 If this proves ineffective, I may need to buy a proper $200 copper heat exchanging core.
Heat resistant hose $60
Insulation for hose $50
Tap to direct waterflow $10
Wire and switch for pump $10
Cold water
I need a cold water tank, maybe 100lt. $70
I need a 12v pressure pump with a switch and wire to instal $80
I need irrigation fittings and hose to distribute the water from the tank and pump to the taps. $30
Bathroom
The bathroom will have a shower, toilet, a sink unit and a mirror.
To make the walls of the 3x3m bathroom, I need:
24m (eight 3m lengths) of timber, to make up two 3x3m squares,one that will attatch to the outdoor roof frame, and one that will attach to the floor. I will use decent scrap wood.
Two 3m x 6m silver/green tarps (or one 6x6 cut in half.). These will be secured to the two timber squares, really well, in a way that will prevent tearing and pull them nice and tight. Ill have the green side facing out, and the silver side facing in. $75
2.4m strip of velcro, this will form the door along one of the slits where the 2 tarps join. $20
I will need to fit a fluro screw/bayonet bulb to the roof for lighting. I will want an inline switch for the light, near the door. $30 for 10m power cable, inline switch, and bayonet/screw fitting.
I need a used hand basin/sink/cabinet unit $100
A mirror, which I can get for free.
I need a composting toilet approved for use in QLD, the classic 1000 nature loo looks ideal. $2730
I need a cheap shower base, second hand from ebay. $50
I need a cheap/home made toilet roll holder. $5
I need a shower screen and rails $40 ebay
I need cheap taps and a shower head, and a board coming down from the timber square attached to the roof, to fit them too. $80
I need fittings to reduce the shower drain to 19mm poly pipe $20.
Both the toilet and shower need to be raised up off the ground. The composting toilet needs to be raised up 1m and the shower needs to be raised up 45-60cm, so that gravity can drain the water into the waste water tanks. This will be done cheaply using pallets as the base frames. They will step up as stairs, two pallets at a time for the toilet base (6 pallets high) and one pallet per stair for the shower base (3 pallets high), to a 1.16m2 top, with support at the back to stop it tipping.
They will be covered in lacqured ply on the 2 exposed sides, stairs and tops to look nice.
To do this i will need:
Three 1.2m x 2.4m sheets of ply, $95
9 pallets to for the bases, free. Two extra for the 6 pieces of 2.4 as support.
Screws, $10
Can of lacquer/sealant, $75
Power
Generator 800
Battery charger/Inverter 500
Battery bank 5800
Power boards and cables Already have Total $7100
Water supply
15-20 of Dad's 20lt blue containers. 2-3 taps to fit. $10
Kitchen/Cooking
Indoor-
Fridge Already have
Pantry cupboard $100
Unit for cutlery/plates/pots/pans, and to prepare non cooked food indoors on Already have
Glass top to protect nice wood surface of bench top $60
Outdoor-
Gas BBQ with oven hood $350
3 burner tabletop LPG stove $115
Gas bottle Already have
Outdoor benchtop sink unit-
5 sheets of 1.2m x 2.4m ply $160
13 2.4m lengths of 2x4 $156
Screws $30
Hinges $20
Lacquer $75
Used sink unit with taps $50
Heating
2 outdoor chiminea fireplaces $400
Reverce cycle air con Already have
Outdoor gas heater Already have
40 of dads 20lt containers Free
12v Ebay water pump $30
Electronic Timer $20
Tap timer $34
Irrigation fittings and hose $150
Cooling
Air conditioner as above, will get fan if required.
Wastewater
Fittings needed to reduce drains to 19mm poly pipe, 19mm poly pipe, 19mm taps and Ts. $60
Dirty water to lawn -
One 20lt container Free
One 13mm bung, 30-50m hose $25
Clean water to garden-
10-20 20lt containers (all leftover ones) Free
One 13mm bung, and one 13mm T per container $38 for 10 containers
13mm poly pipe + 13mm tap $10
12v pump, wire and switch $40
Lighting
Already have lamps and stuff.
Rubbish
Use whatever.
Washing up/laundry
Just use kitchen sink, and laundromat.
String for washing lines $10
TOTAL $12,820
Total costings & finances
Total costings work out to $12,820 for the amenitys and $15,800 for the actual structure. This works out to $28,620. Assuming I will need $1380 for unseen costs, The home will cost at flat $30,000. This is my strict budget.
Optional savings
There are a number of items I can do without initially these are: Savings
BBQ, just cook on stove tops $350
Tarp roof, use poly tarp instead of canvas, fot safe for chiminea fire places though.. $500
Toilet, find 2nd hand model $1000
Chiminea fire places, use gas hearter outdoors if needed $400
Paint for container walls, go without for now $200
Tarps to cover pallets, go without for now $300
Solar water home heating system, go without till needed $234
Go without water tank till I save up for it $2200
Find somthing 2nd hand for pantry $50
TOTAL $5234
If I am coming up over budget, I will do one or more of the above, to keep the total at $30,000 or less.
Other maybe stuff over time or with left over budget
4 hammok support
4 x 3m beams
1 x 4m beam
32 150x10mm screws
16 eyebolts
12m chain
4 tensioners
Lacquer
4 hammocks (already have)
Spa bath
Spa shell
Home made base
Pump
Salt water chlorinator
Filter
Cover
Fittings to route water through heating core when needed
DIY solar heating w/solar pump
5 level cat tower
1 sheet 6mm ply 1200 x 2400
4 2m posts
20 small brackets
40m rope for wraping posts
Natural log for alternative climb to top
Leftover piece of 600x1200 12mm ply from outdoor cabinet for top
Finding my landlords
I will do up a proposal, that I will deliver to maybe 50 properties that look suitable from google earth and along the road. Ask mum and dad if they have ideas.
The proposal will state exactly what I am looking for, how their land will be used, the type of people I hope to partner up with, the type of person I am and the exact plans of my home. I feel I should let them know within the proposal that I want land secluded enough to play loud music regularly. I don't want that to be an issue, so I want to let it be known from the get go.
Hopefully ill end up with a good choice of propertys!
Legalitys
As this is not an approved structure, the land lord cannot obviously 'rent' it to me. I need to rent the land off him, and I am the one putting up the structure on 'my' land.
As my understanding goes, you can put up somthing on your land semi-legally, you can't sell or rent it unapproved though? Talk to mum and dad.
Pros
Awesome place for molly and lilly (my beautiful cats), they will love being able to go outside onto the deck whenever they want, through a cat door! They can also have an enclosed run to the greenhouse!
Only $5200 rent per year, after I pay off my home (2 years 3 months or less). 1/3 the price of what I would pay for a much less ideal property cramed inbetween neighbours with no room for my plants, no pets, no partys etc.
No bond, no inspections, nothing of anyone elses to dammage, I own the house, I can modify it how I want.
Off the grid, no power bills – pay as you go for gas and fuel, no water bills, etc.
Power bill is smaller.
Perfect place for entertaining and partys, no neighbours to consider, plenty of room, and room to stay.
This will actually form the base of my dream home using three 40ft containers with a really nice large wooden deck area, simular to my current design.
All money I spend apart from $100 per week rent, goes into somthing that will always be useful to me, or at least somthing desirable that I could sell on – a complete and very comfortable portable home!
Owning my own place is as simple as buying land, getting effluent trenches dug, putting in a septic and the proper foundations, and transporting my home over! I can build onto it properly from there, with more containers, by moving the shower and toilet (a real one with septic tank) inside to a proper bathroom, and doing a proper deck etc..
I will have a nicer view that anything I can rent, surrounded by bushland/forest not houses.
I can play music any night of the week, any time, any volume.
I have the room for decent groups of people to come and stay.
Home greener than most, and made using alot of recycled materials.
In a good position to start saving considerable money for land.
Running a buisnesss will be much easier if I can bring down my cost of living by $200 or more per week, and half my power bill!
Cons
Extra work – Need to pick up gas for cooking, stock up on firewood regulary, fill up water tanks when out, top up generator fuel tank, wash clohes by hand or at laundromat/friends house, Poor water from drums into the shower tanks, heat my own water, dispose of my own rubbish. None of that is time consuming or hard labour though! About every year and a half I will need to empty one of the compost toilet tanks, and swap it over. I may pay someone.